Y haplogroups
What follows is the first in a series of two essays, covering human haplogroups, their origins and current distributions. According to geneticists, no more than 90% of existing human mtDNA and yDNA haplogroups has been precisely identified. One theory is that the missing 10% was acquired through the archaic interbreeding between humans and at least two, non-human species. To me, this conjecture smacks of an argument from ignorance, i.e. we do not know where these haplogroups arose; therefore, we (sorta) know where they came from. But, the speculation remains fodder for thought.
yDNA haplogroups

clusters of non-recombinant DNA from the Y chromosome passed down the male line
yDNA haplogroups are used as genetic markers - in tracing the ancestry of male individuals to geographically distributed populations. Haplogroups are not known to be visible to selection; that is, they are traits, carried by individuals, which do not confer either survival or reproductive advantages. (Nor are they known to confer survival nor reproductive disadvantages.) Their frequencies are driven by genetic drift. All identified Y haplogroups are the results of down-stream mutations altering the original, human haplogroup (A) - now estimated to have arisen 140Kyr ago in one male, Adam (the most recent common male ancestor).
In the image below are striking clues, pointing towards drift. The pie-charts represent the relative frequency of a haplogroup (or haplogroups) in a given region. As examples - in the Americas among male Amer-Indians, haplogroup Q1a3a1 (light purple) is the most common, and in sub-Saharan West Africa, E1b1a (light blue) is the most common Y haplogroup. The high frequency distributions of these haplogroups on both continents are expectable - in that the Americas and sub-Saharan Africa were (largely) reproductively isolated for tens of thousands of years from the rest of the world. See: World Haplogroups.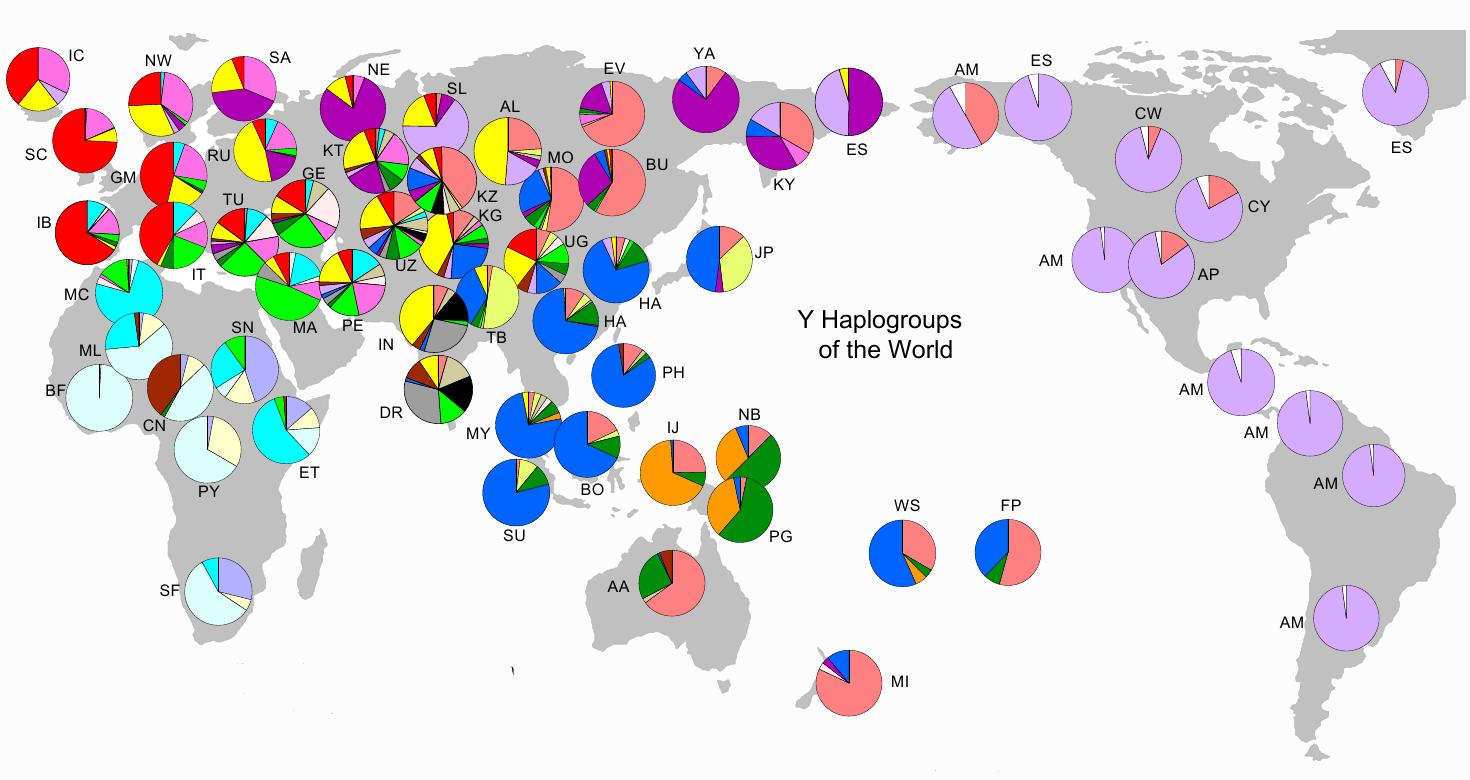 The remaining account will be a compact summary of Y haplogroups with my comments and extensions - where necessary.
A BT B CT CF C D E F G H IJ I J K L M N O P Q R S T